Archbold Partners with YMCA to Offer Boxing-Based Exercise Class for Parkinson's Patients
Category: News
Posted On:
Archbold Therapy & Sports Medicine, in partnership with the YMCA of Thomasville, is excited to introduce a new boxing-themed exercise class for those diagnosed with Parkinson's disease.
Rock Steady Boxing is an exercise program designed to help those diagnosed with Parkinson's disease of all levels who may experience various symptoms such as rigidity, poor balance, forward posture, shuffling gait and incoordination.
"Our goal for this program is to help those diagnosed with Parkinson's disease improve their quality of life through a non-contact, boxing-based fitness curriculum while also engaging with others in the community," said Archbold Occupational Therapist Molly Cone, OTR/L.
Several medical studies on exercise and Parkinson's have concluded that moderate- to high-intensity exercise can slow the progression of Parkinson's symptoms. In this non-contact group fitness class, boxers train to improve balance, hand-eye coordination, speed of movement, rhythm, muscle power and mental focus. Rock Steady coaches are trained to modify exercises so that anyone can benefit.
Those interested in the class can pick up or request a medical release form from Archbold Therapy and Sports Medicine, located at 2300 E. Pinetree Blvd. in Thomasville. Once participants have their physician sign their medical release form, they can make an appointment to be screened for the Rock Steady boxing program at Archbold Therapy & Sports Medicine.
The Rock Steady Boxing class will be held on Tuesdays and Thursdays from 2:30 p.m. to 4:00 p.m. Classes will take place in the Everett-Milton YMCA Group Fitness Room, located at 103 S. Dawson Street in Thomasville.
"We are so excited to partner with Archbold and offer this class to those in our community dealing with Parkinson's Disease," said YMCA of Thomasville Health & Wellness Director Howell Tucker. "Our goal is to keep them as mobile as possible for as long as possible."
For more information, or if you are interested in becoming a volunteer for this program, please call Archbold Therapy & Sports Medicine at (229) 228-8050 or contact the YMCA of Thomasville at (229) 226-3446.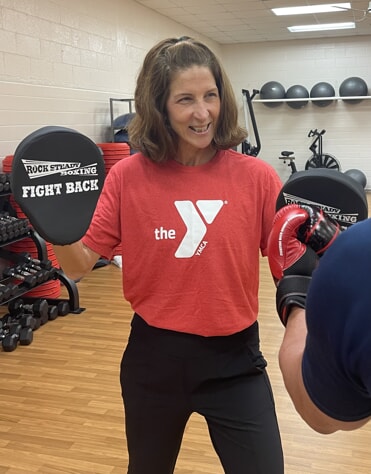 Carisa Campanella, Rock Steady Boxing Coach