Archbold Unveils Portrait of Long-Time Physician Dr. Oscar Mims
Category: News
Posted On:
On Friday, May 21st, Archbold held a small dedication to honor a well-respected and longtime physician in Thomasville, Oscar Mims, MD. A portrait of the 99-year-old physician was unveiled and will hang inside the halls of Archbold Memorial Hospital in his honor. The portrait was commissioned by his family and given to the hospital in appreciation of Dr. Mims' long and distinguished career.
Dr. Oscar Mims joined the medical staff in 1952 and specialized in Internal Medicine. He also served as Chief of Staff in 1968. He practiced for 38 years before retiring in 1991. Dr. Mims is one of only three Honorary Life Trustees ever appointed in Archbold's long history. The other two were the children of the hospital's benefactor Jack Archbold – Richard Archbold and Page Archbold Hufty.
Dr. Mims was known for his compassionate care and commitment to his patients. In 1976, Mr. John Hay Whitney, a winter resident patient of Dr. Mims', recognized the quality of care he received and made a sizable donation of $75,000 meant to name a coronary care unit in Dr. Mims' honor. In his humble natured way, Dr. Mims said to hospital administration that the recognition did not belong solely to him and did not want a plaque.
"He believed so much in the hospital that he built a house 65 years ago, one block away, to be close to the hospital. He is a very dedicated, kind, gentle person whose patients knew him for his outstanding bedside manner," said his daughter, Leslie Mims Tichich. "I think this portrait is a wonderful tribute to a physician who dedicated his life to Thomasville as well as the patients he had at the institution. I'm so grateful to the Archbold administration for participating in this endeavor and honoring his legacy."
Dr. Mims was joined in attendance by his three children and their spouses - Oscar Mims, Jr. (Vicki), Frances Mims Parker (Richard) and Leslie Mims Tichich (Richard), grandson Oscar Mims, III and longtime friends Sally Hodges, Joe Beverly and Dr. Bill Ellis.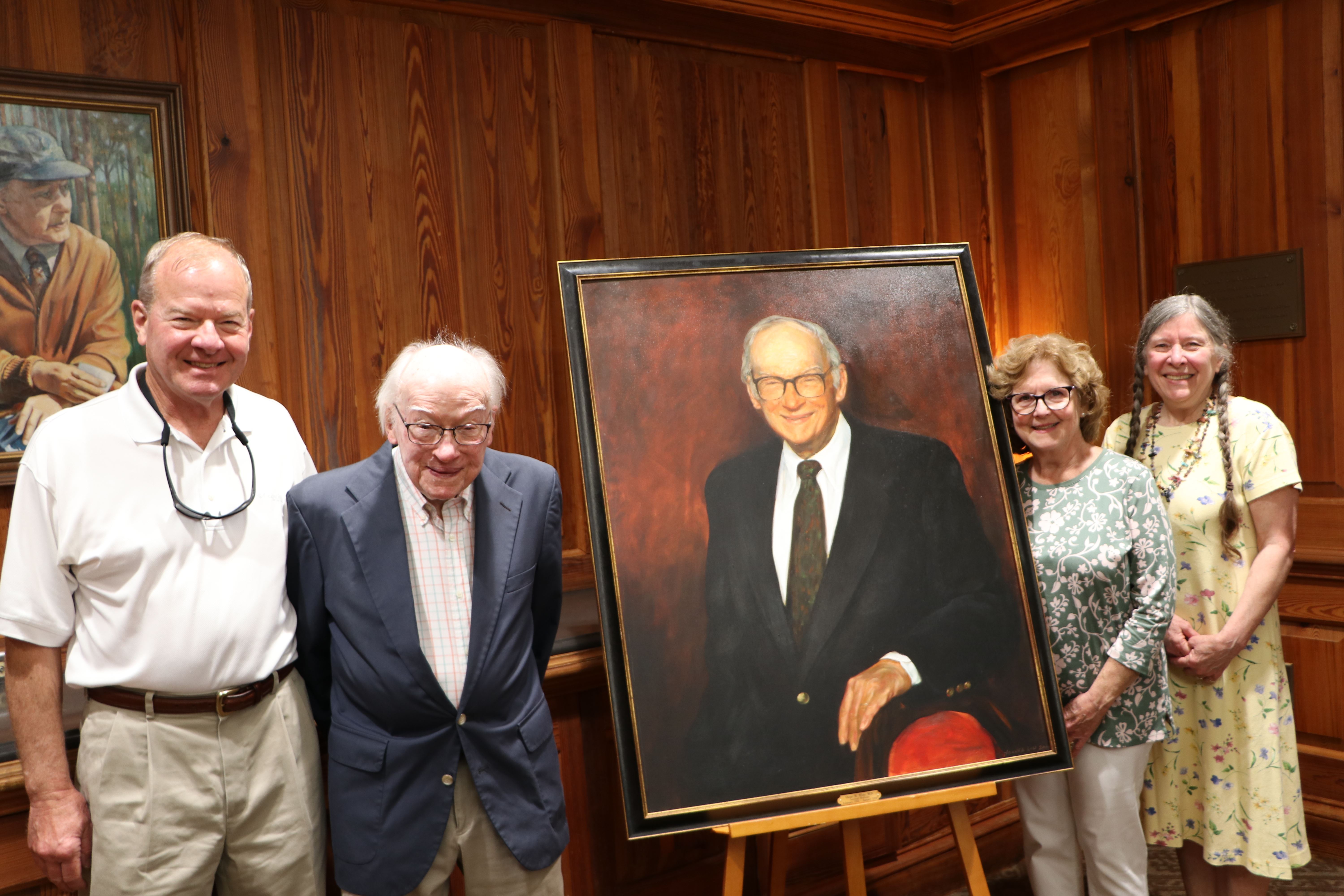 Dr. Mims pictured with his three children shortly after the unveiling of his portrait, which will hang inside Archbold Memorial Hospital.
Pictured from left to right: Oscar Mims, Jr., Oscar Mims, Frances Mims Parker, and Leslie Mims Tichich.